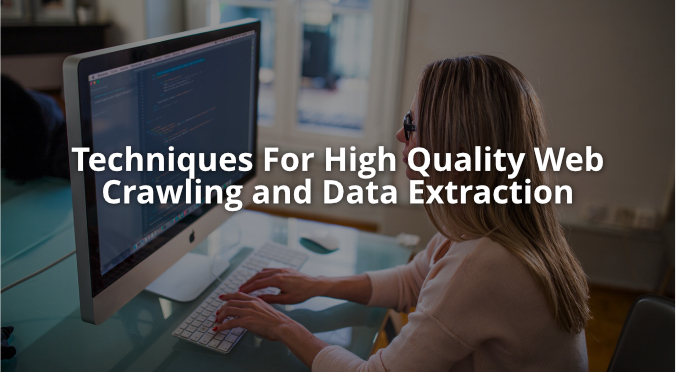 Data is all the rage these days.
It's what businesses are utilizing to create an unfair advantage with their customers. The more data you acquire, the easier it becomes to slice it up in a unique way to solve problems for your customers.
But knowing that data can benefit you – and actually getting the data – are two separate items.
Much like technology, data can catapult you to greater heights, or it can bring you to your knees.
That's why it is essential to pay careful attention and ensure the data you use propels you forward versus holding you back.
Why all data isn't created equal
The right data can make you a hero. It can keep you at the forefront of your industry, allowing you to use the insights the information uncovers to make better decisions.
Symphony Analytics uses a myriad of patient data from a variety of sources to develop predictive models, enabling them to tailor medication schedules for different patient populations.
Conversely, the wrong data can sink you. It can cause you to take courses of action that just aren't right. And, if you take enough wrong action based upon wrong data, your credibility and reputation could suffer a blow that's difficult to recover from.
For instance, one report from the state of California auditor's office shows that accounting records were off by more than $6 million due to flawed data.
That's no good. And totally avoidable.
As a result, it is critical you invest the energy in advance to ensure the data you source will make you shine, rather than shrink.
How to get good data
You've got to plan for it. You've got to be clear about your business objectives, and then you've got to find a way to source the information in a consistent and reliable manner.
If your business' area of expertise is data capture and analysis, then gathering the information you need on your own could be a viable option.
But, if the strength of you and your team isn't in this specialized area, then it's best to leave it to the professionals.
That's why brands performing market research on a larger scale often hire market research firms to administer the surveys, moderate focus groups or conduct one-on-one interviews.
Of late, more companies are turning to data scraping as a means to capture the quantitative information they need to fuel their businesses. And they frequently turn to third-party companies to supply them with the information they need.
While doing so allows them to focus on their core businesses, relinquishing control of a critical asset for their businesses can be a little nerve-racking.
But, it doesn't have to be. That is if you work with the right data scraping partner.
How to choose the right data scraping partner for you
In the project management world, there's a triangle that is often used to help prioritize what is most important to you when completing a task.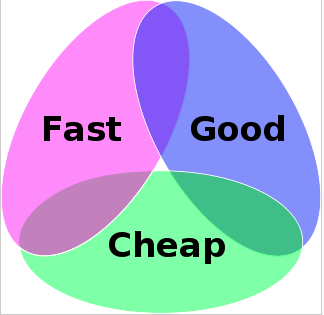 Although you may want all three choices, you can only pick two.
If you want something done fast, and of good quality, know that it won't be cheap. If you want it fast and cheap, be aware that you will sacrifice quality. And if you'd like it to be cheap and good, prepare to wait a bit, because speed is a characteristic that will fall off the table.
There are many 3rd party professionals who can offer data scraping services for you. As you begin to evaluate them, it will be helpful to keep this triangle in mind.
Here are six considerations when exploring a partner to work with to ensure you get high-quality web crawling and data extraction.
1. How does the data fit into your business model?
This one is counter intuitive, but it's a biggie. And, it plays a major role as you evaluate all the other considerations.
If the data you are receiving is critical to your operations, then obtaining high-quality information exactly when you need it is non-negotiable. Going back to the triangle, "good" has to be one of your two priorities.
For instance, if you're a daily deal site, and you rely on a third party to provide you all the data for the deals, then having screw-ups with your records just can't happen.
That would be like a hospital not staffing doctors for the night. It just doesn't work.
But, if the data you need isn't mission critical for you to run your business, you may have a little more leeway in terms of how you weight the other factors that go into choosing who best to work with.
2. Cost
A common method numerous businesses use to evaluate costs is just to evaluate vendors based on the prices they quote.
And, too often, companies let the price ranges of the service providers dictate how much they are willing to pay.
A smarter option is to determine your budget in advance … before you even go out to explore who can get you the data you need. Specifically, you should decide how much you are able and willing to pay for the information you want. Those are two different issues.
Most businesses don't enjoy unlimited budgets. And, even when the information being sourced is critical to operating the business, there is still a ceiling for what you're able to pay.
This will help you start operating from a position of strength, rather than reacting to the quotes you may receive.
Another thing to consider are the various types of fees. Some companies charge a setup fee, followed by a subsequent monthly fee. Others charge fixed costs. If you're looking at multiple quotes from vendors, this could make it difficult for you to compare.
A wise way to approach this is to make sure you are clear on what the total cost would be for the project, for whatever specified time period you'd like to contract with someone.
Here are a few questions to ask to make sure you get a full view of the costs and fees in the estimate:
Is there a setup fee?
What are the fixed costs associated with this project?
What are the variable costs, and how are they calculated?
Are there any other taxes, fees, or things that I could be charged for that are not listed on this quote?
What are the payment terms?
3. Communication
Even when you've got a foolproof system that runs like a well-oiled machine, you still need to interact with your vendors on a regular basis. Ongoing communication confirms things are operating the way you'd like, gives you an opportunity to discuss possible changes and ensures your partner has a firm understanding of your business needs.
The data you are sourcing is important to you and your business. You need to partner with someone who will be receptive to answering questions and responding in a timely manner to inquiries you have.
Here's how one client described the benefit of having an easily accessible data extraction partner: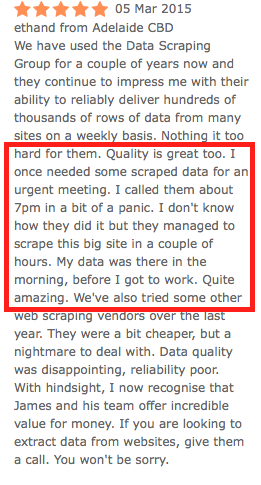 4. Reputation
This was mentioned before, but it's worth repeating. All data is not created equal. And, if you are utilizing data as a means to build and grow your business, you need to make sure it's good.
So, even though data scraping isn't your area of expertise, it will greatly benefit you to spend time validating the reputation the people vying to deliver it to you.
How do they bake quality in their work? Do they have any certifications or other forms of proof to give you further confidence in their capabilities? Have their previous customers been pleased with the quality of the data they've delivered?
You could do so by checking reviews of previous customers to see how pleased they were and why. This method is also helpful because it may assist you in identifying other important criteria that may not have been on your radar.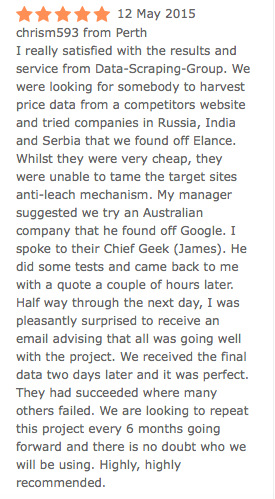 You could also compare the credentials of each of the vendors, and the teams who will actually be working on your project.
Another highly-effective way could be to simply spend time talking to your potential partners and have them explain to you their processes. While you may not understand all the lingo, you could ask them a few questions about how they engage in quality control and see how they respond.
You'd probably be shocked at the range of answers you get.
Here are a few questions to guide you as you start asking questions about their quality system:
Are the data spiders customized for the websites you want information from?
What mechanisms are in place to verify the harvested data is correct?
How is the performance of the data spiders monitored to verify they haven't failed?
How is the data backed up? Is redundancy built into the process so that information is not lost?
Is internet access high-speed, and how frequently is it monitored?
5. Speed
For those suppliers that are able to deliver data to you fast, make sure you understand why they are able to deliver at such a rapid speed. Are there special systems they have in place that enable them to do so? Or perhaps, is there any level of quality that is sacrificed as a result of getting you information fast.
Often when contracting with a data extraction partner, they'll deliver your information on a set schedule that you both agree upon.
But, there may be times when you need information outside of your normal schedule, and you may even need it on a brief timeline.
Knowing in advance how quickly your partner is able to turn around a request will help you better prepare project lead times.
6. Scalability
The needs of your business change over time. And, as you work to grow, it is quite possible the data needs of your company will expand as well.
So, it's helpful to know your data scraping partner is able to grow with you. It would be great to know that as the volume, and perhaps the speed of the information you need to run your business increases, the company providing it is able to keep pace.
Don't get stuck with bad data
It could spell disaster for your business. So, make sure you do your due diligence to fully vet the companies you're considering sourcing your data from.
Make a list of requirements in advance and rank them, if necessary, in order of importance to you.
That way, as you begin to evaluate proposals and capabilities, you'll be in a position to make an informed decision.
You need good data. Your customers need you to have good data, too.
Make sure you work with someone who can give it to you.